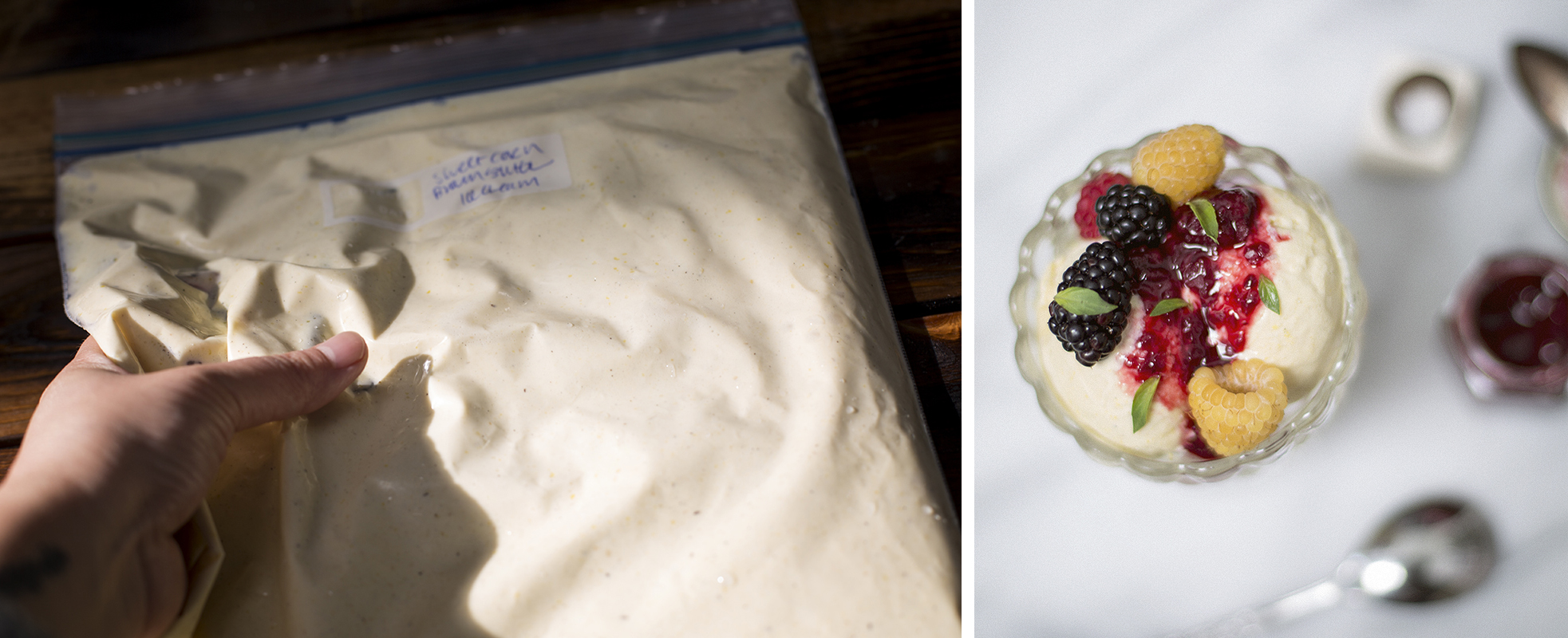 Summer sweet corn reminds me of the night markets in Taiwan, chowing down on fire-roasted corn on the cob, and shaved-ice drenched in condensed milk. I wanted that sweet & savory action, at once, in my mouth.
If you've ever made ice cream, you know how obnoxious it is to babysit the creme anglaise on the stovetop--look away for a second too long and you have curdled eggs. The sous vide method is perfect for this process and all you need to do is put your ingredients into a bag and drop it in the water!
I made this ice cream with my cannabis-infused butter and topped it with some fresh berries and a sativa-blend hash tayberry jam from my friends at Flour Child.
Roasted Sweet Corn & Green Butter Ice Cream
Makes about 1 quart

Ingredients
• 2 ears summer corn, shucked
• 3 Tbsp canna-butter
• 2 cups heavy whipping cream
• 1 1/2 cups whole milk
• 4 egg yolks
• 1/2 cup brown sugar
• 1/2 tsp vanilla extract
• 1/2 tsp salt

Optional Toppings
• 1 tsp crunchy finishing salt like Maldon
• Mixed berries
• Flour Child Jam
Directions
1. Set your sous vide water bath to 85ºC (185ºF).
2. Turn your stove on medium-high, using a large knife, slice the kernels off the summer corn cobs and place in a medium cast iron pan with your cannabis butter. Char until kernels are golden brown. Remove from heat.
3. In a large mixing bowl, whisk together heavy cream, milk, sugar, egg yolks, vanilla, and salt. Once it's fully incorporated, add in the charred corn, and give it another good mixing.
4. Pour the ice cream custard into a gallon-sized, freezer-safe zip bag and seal using the water displacement method. Sous vide for 1 hour.
5. After an hour, remove the ice cream custard from the water bath and pour into a blender. Puree until smooth and strain through a fine-mesh sieve. Don't discard the solids though, you can eat it later on!
6. Let the ice cream custard cool to room temperature or speed up the process by placing the bag into a bowl of ice water.
7. Freeze the ice cream custard in your ice cream maker according to instructions. Add crunchy Maldon salt into the ice cream maker in the last few minutes of churning. No ice cream maker? No problem! Here's a fun hack from my friend, Harold McGee!
8. To assemble, top each scoop with a handful of berries or a dollop of your favorite berry jam!