Chestnut and Winter Squash Soup: A Green Cacao Co Collab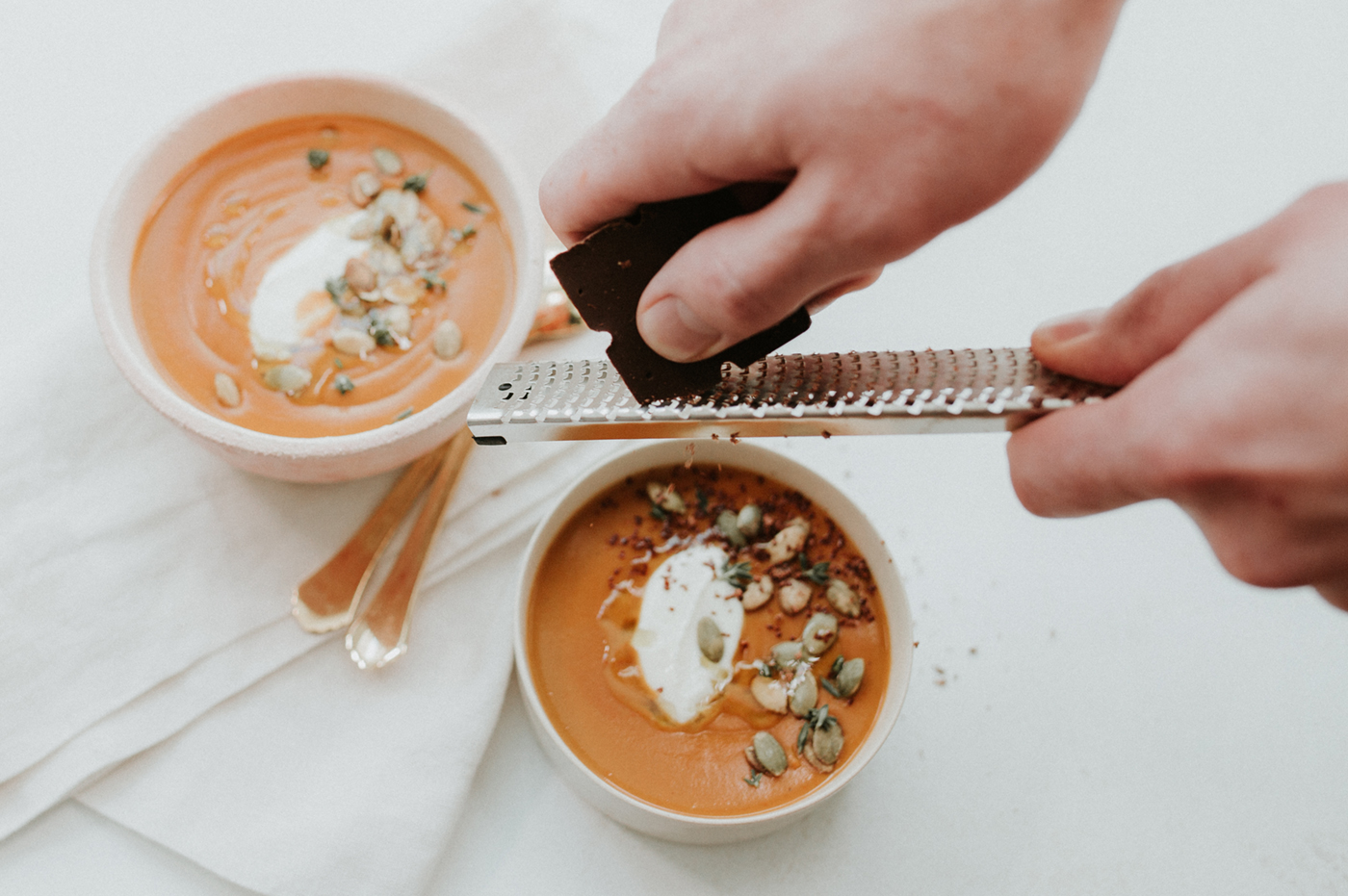 This soup is so comforting and seasonal that it practically has Ugg boots and a pumpkin spice latte built in. Okay not really, because that sounds gross, but it's a pretty excellent way to feel cozy and a little festive during the dark months of winter. The complementary flavors of chestnuts and winter squash combine to produce a nutty richness that's greater than the sum of the ingredients. (Fun fact: my favorite type of squash, kuri, actually means "chestnut" in Japanese because of the similarity in taste.) Together with the winter squash and chestnuts, the complex, lightly sweet taste of Green Cacao Company's chocolate straddles the line between sweet and savory. To marry these ingredients together I used a few spices typically found in mole (the Mexican chiles, cinnamon, and clove) instead of the ubiquitous "pumpkin spice". Paired with the mellowing effects of the indica, this is an ideal recipe for a chill AF dinner at home.
Chestnut and Winter Squash Soup
Serves 4-6
Ingredients:
• 1 (2-lb) winter squash (I like kuri or kabocha), cut in half, seeds and pulp scraped out with a spoon
• 3 tablespoons Sous Weed olive oil, plus additional for garnish
• 1 large shallot, thinly sliced
• 3 cloves garlic, thinly sliced
• Guajillo chiles, stemmed, seeded, and cut into ¼ inch slices (or substitute 2 ancho chiles, stemmed, seeded, and cut into ¼ inch slices)
• Pinch ground cumin
• Pinch Mexican cinnamon
• Pinch ground clove
• ½ cup dry sherry or white wine
• 8 ounces/1 ½ cups peeled roasted chestnut
• 1 quart chicken or vegetable stock
• Kosher salt and ground white pepper, to taste
• ½ cup crème fraîche, plus more, for garnish (optional)
• ½ cup toasted pumpkin seeds, for garnish
• 1 teaspoon picked thyme leaves, for garnish
• 1 square (1/4 bar) Green Cacao Co Indica Bar
Directions:
1. Preheat oven to 425º.
2. Place the squash, cut side up, onto a parchment paper lined baking sheet. Drizzle with olive oil and season with salt. Roast the squash until it is completely tender and beginning to brown, 30-45 minutes. Remove from oven. Once the squash is cool enough to handle, use a spoon to scrape out all the flesh, discarding the outer rind. Set aside.
3. Heat the olive oil in a medium pot over medium heat until shimmering.
4. Add the garlic, shallot, and chili and cook, stirring constantly, until the shallot and garlic have softened and are beginning to turn golden, 3-5 minutes.
5. Stir in the cumin, cinnamon, and clove, followed immediately by the sherry. Once the mixture boils, add the stock, chestnut, reserved squash, and ½ cup crème fraîche. Return mixture to a boil, reduce heat to a simmer, and cook for 1 minute.
6. Remove the soup from the heat and blend until completely smooth (you can use an immersion blender or standing blender), then season to taste with salt and white pepper.
7. To serve, divide the soup between warmed bowls, and garnish each with a dollop of crème fraîche, and a drizzle of olive oil, then divide the thyme and pumpkin seeds between them. To guild the lily, finish with a shaving of Green Cacao Company chocolate.
Sponsored by: Green Cacao Co.
Recipe: Chef Scott Peabody
Photography: Monica Lo