Holiday Parsnip Salad: A Green Cacao Co Collab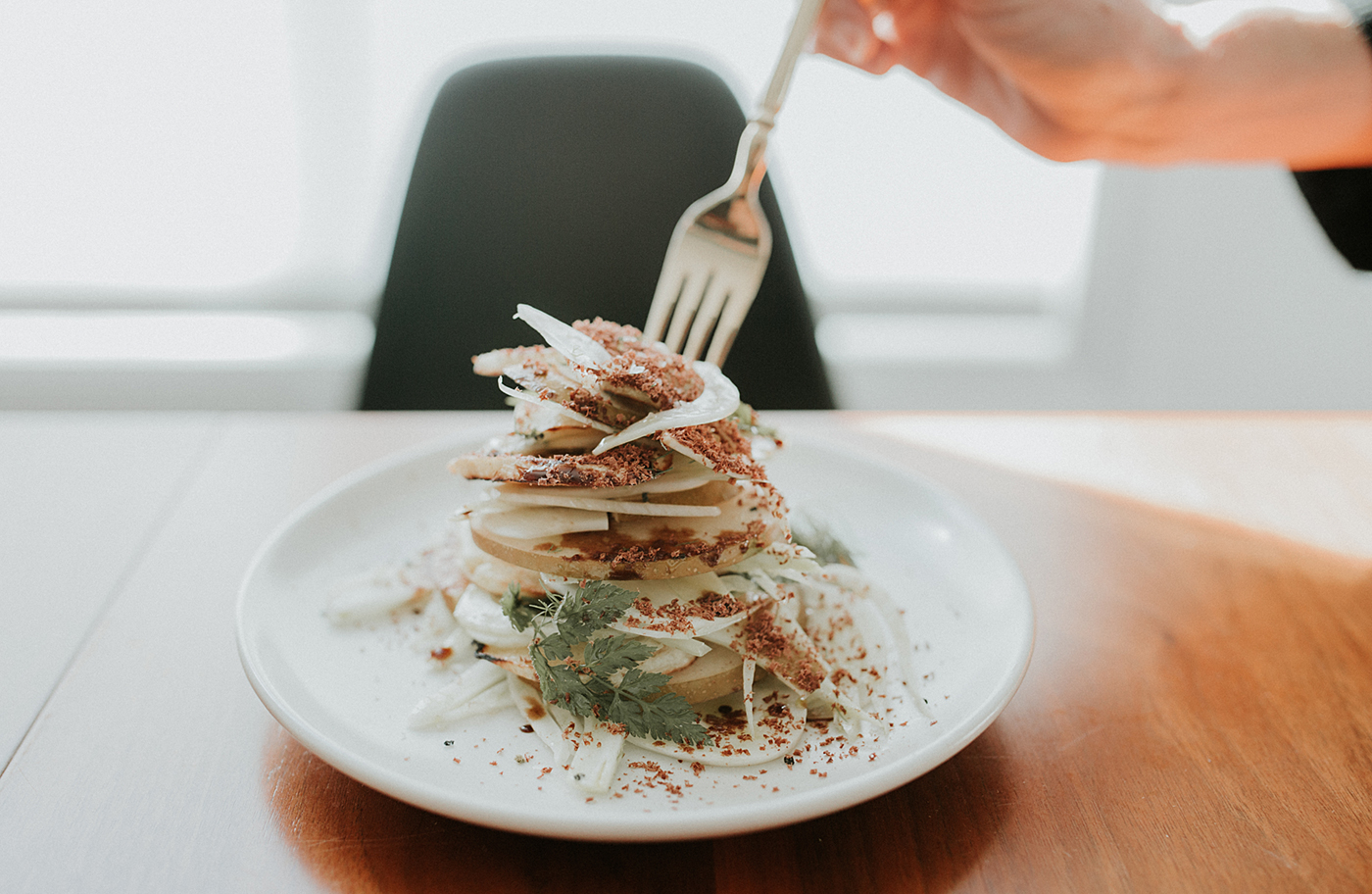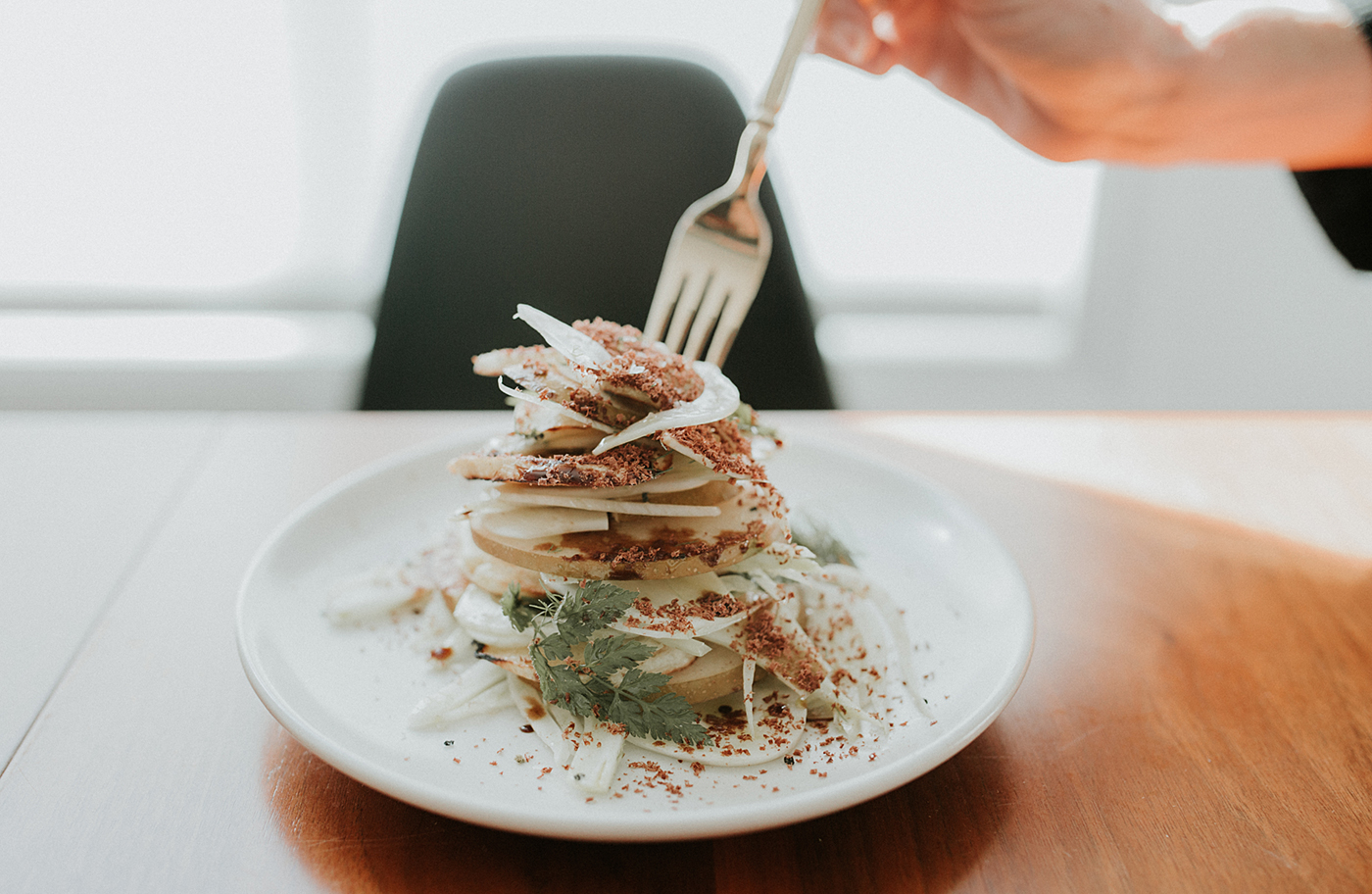 Parsnip, sometimes known as "what's that weird white carrot thing?" has long been unjustly denied its rightful place in the pantheon of A-list winter vegetables. Hopefully this recipe will convince you that it's ready for its moment in the spotlight. Once caramelized with a little olive oil, the sweet, earthy taste and substantial texture of parsnip, makes a wonderful match for the bright anise-y flavor and crunch of fresh fennel bulb and juicy Asian pear. (For those of you without first-rate knife skills, a mandolin is the perfect tool to get even, thin slices for the fennel, pear, and parsnip.)
What will really make this salad a showstopper is selecting a high-quality balsamic vinegar. You'll find mass produced examples, which are perfectly fine for many applications, but here, the richer, syrupy aged versions (aceto balsamico tradizionale), with their smoky, fruity notes, will pair beautifully with the bold, spicy taste of Green Cacao Co's Sativa chocolate bar.

Whether you eat this salad as a lighter lunch, or as a side to a more substantial holiday meal, it's sure to lift your spirits, with an added boost of sativa-enhanced holiday cheer.
Special Holiday Fennel & Parsnip Salad
Serves 4-6
Ingredients:
• 1 large parsnip, peeled and sliced ¼ inch thick
• 3 tablespoons extra virgin olive oil (or sub with Sous Weed olive oil)
• 1 fennel bulb, trimmed and thinly sliced
• 1 large Asian pear, cut in half, cored, and sliced into ¼ inch wedges
• ¼ cup picked chervil, fennel fronds, or parsley, or a mix
• Flaky sea salt, such as Maldon or fleur de sel
• 1 teaspoon aged balsamic vinegar (the higher quality the better)
• 1 square (1/4 bar) Green Cacao Co. Sativa Bar
Directions:
1. Heat 1 tablespoon of the olive oil in a large skillet or sauté pan over medium high heat, until shimmering. Add the parsnip in one layer without overlapping (working in batches if necessary) and cook, until the first side has turned light golden brown, 2-3 minutes. Flip the pieces and cook 2-3 minutes more, until the other side has browned and the parsnip is tender enough to be easily pierced with a fork. Remove from the heat, transfer parsnip to a mixing bowl, and allow to cool.
2. Once the parsnip has cooled, add the sliced fennel, Asian pear, and chervil to the bowl. Drizzle with the remaining 2 tablespoons of olive oil (sub with medicated olive oil for more potency) and flaky sea salt to taste.
3. Divide the salad between plates, drizzle with the balsamic, and shave the Green Cacao chocolate over top.
 
SPONSORED BY: GREEN CACAO CO.
RECIPE: CHEF SCOTT PEABODY
PHOTOGRAPHY: MONICA LO