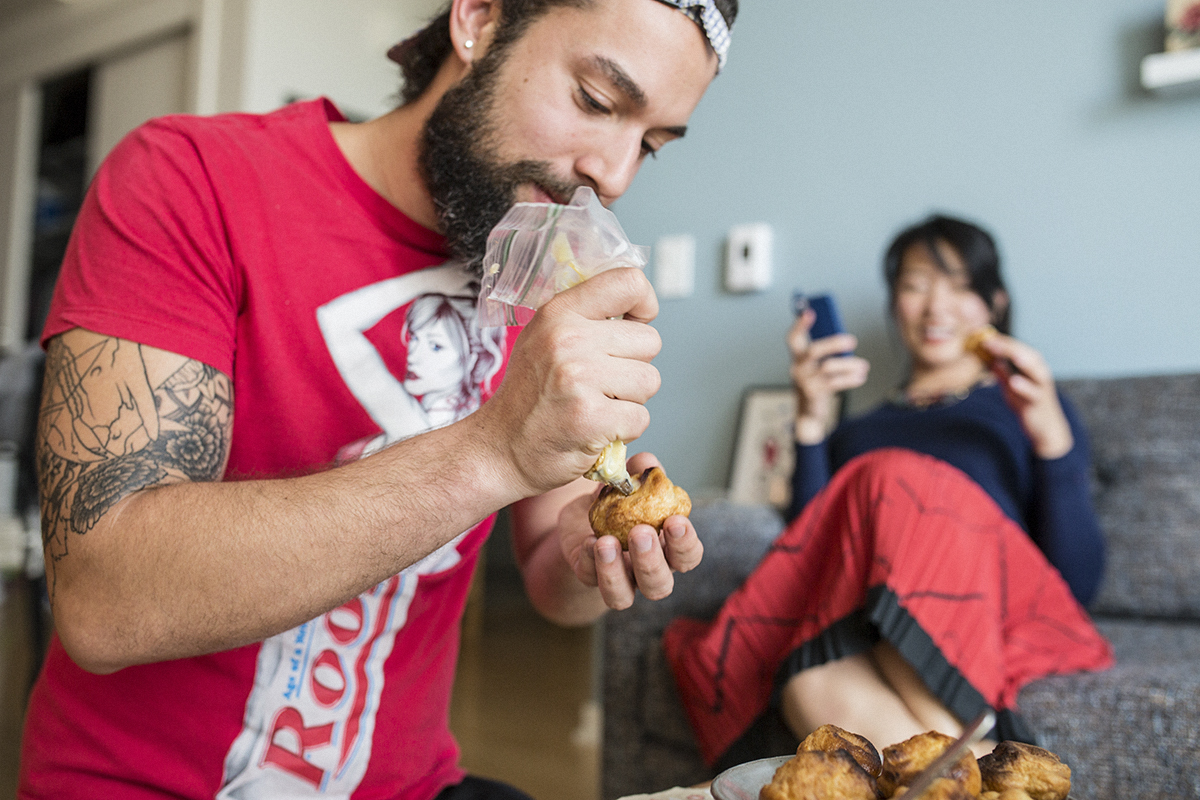 I enjoyed a wonderful Friendsgiving brunch this weekend with Chef Jose Rodriguez (formerly The Copenhagen, David Burke Group) where he shared his delicious Sous Weed cream puffs.

Our party had such a great time piping the cream together and we even added some sparkly edible glitter to dust on top. Extra fancy! This is definitely a fun recipe to share for the holidays and would be make for great entertainment with your loved ones.
Cream Puff Puff
Makes 30 small cream puffs
Ingredients for Sous Weed Coconut Butter
• 1 oz trim (Jose used a hybrid)
• 3 cups coconut oil
• Cheese cloth
Ingredients for Pate a Choux
• 1 cup water
• 8 Tbsp butter (1 stick)
• 1/2 tsp salt
• 2 tsp granulated
• 1 cup of AP flour
• 3 large eggs, and 1 egg for egg wash
Ingredients for Cream Filing
• 2 cups heavy cream
• 1 vanilla bean - scraped clean
• 6 egg yolks
• 1 cup granulated sugar
• 1/4 cup corn starch
• 1/2 Tbsp butter
• 3 Tbsp Sous Weed coconut butter
Directions for Sous Weed Coconut Butter:
1. Decarb your trim for maximum THC extraction. Set your sous vide water bath to 95ºC. Seal your trim in a vacuum seal bag or a zip bag using the water displacement method. Sous vide for an hour.
2. After an hour, remove trim and turn down the water bath to 85ºC.
3. Pour decarbed trim into a canning jar with coconut oil, seal, and sous vide for two to four hours.
4. Remove from water bath and strain with cheese cloth.

Directions for Pate a Choux:
1. Preheat the oven to 425ºF.
2. In a large saucepan, bring the water, butter, salt, and granulated sugar to a boil over medium-high heat. Once it boils, immediately take the saucepan off the heat. Stirring with a wooden spoon or spatula, add all the flour at once and stir hard until all the flour is incorporated. Return the pan to the heat and cook, stirring, 30 seconds to evaporate some of the moisture.
3. Scrape the mixture into a mixer fitted with a paddle attachment. Mix at medium speed. With the mixer running, and working 1 egg at a time, until all 3 are gone. Mix until fully incorporated.
4. Using a pastry bag with a large plain tip, pipe the pate a choux onto a baking sheet, in 2-inch balls.
5. Whisk the remaining egg with 1 tsp of water and brush it on the surface of the dough balls.
6. Bake for 15 minutes and then reduce the heat to 375ºF and bake for 20 minutes--until golden brown.
7. Remove and let cool.
Directions for Cream:
1. In a medium sauce pan, bring milk and vanilla bean to a boil over medium heat. Immediately remove from heat once it reaches a boil. Set aside to infuse for 10 minutes.
2. In a bowl, whisk egg yolks and sugar until light and fluffy.
3. Add corn starch and whisk vigorously until the lumps are gone.
4. Whisk in the warm milk mixture slowly until fully incorporated.
5. Pour the mixture through a strainer back into the empty saucepan. Cook over medium-high heat, whisking constantly until thickened. Remove from heat and stir in the Sous Weed coconut butter. Let the cream filling chill in the refrigerator before piping, about 1 hour.

Directions for Assembly:
1. Using a pastry bag with a small plain tip, pipe the medicated cream into each puff.
2. Chill until ready to serve, but no longer than 4 hours.
3. This is optional but you can dust with powdered sugar or even edible glitter right as you serve!